How to Purchase ezCheckPrinting for Mac from Apple Store
Apple does NOT allow us to sell the latest Mac version of ezCheckPrinting from our site directly.
If you are a new client, please follow the guide below to purchase ezCheckPrinting license from Apple Store.
If you lost license, please follow the guide to restore license.
If you purchased the previous version, please follow the guide to update ezCheckPrinting.
Step 1: Download ezCheckPrinting from Apple Store
If you are using a MAC computer, you will see the INSTALL button after you go to Mac Apple Store. You can click it to download ezCheckPrinting Mac Version 6. (You cannot see this download button if you are using iphone or Windows computers.)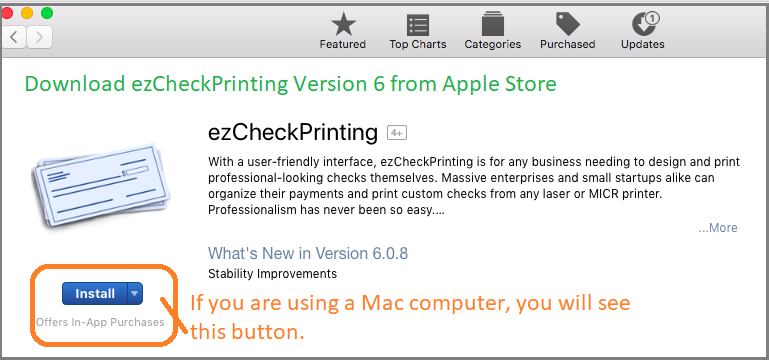 Step 2: Run ezCheckPrinting on Mac after you installed it.
Click the Launchpad button, then you will see the current applications intalled on your Mac machine. Click the ezCheckPrinting icon to start this check writer application.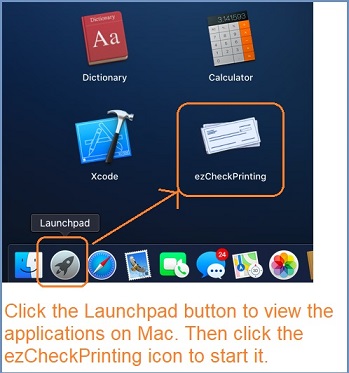 Step 3: Purchase the license
When you start ezCheckPrinting trial version, you will see the welcome screen. You can click the "Upgrade to full version" button to purchase the license from Apple Store.
If you like to try ezCheckPrinting longer, click "Use Trial Version" button.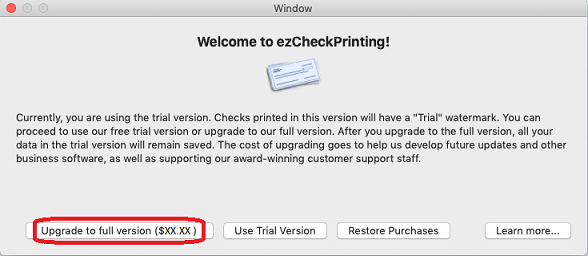 More information