ezPaycheck Payroll Software: How to Adjust MICR Line Printing Position of Paychecks
(
Note: If you just need to adjust one field on check (ie: company address), you can customize this field on check layout setup screen. View more details here.
)
Steps to adjust the printing position of the whole check
You can click the ezPaycheck left menu "Checks" then "Check List" to access Check Setup screen. Majority customers can use the default value "0" for "Offset left", "Offset right", "Offset up" and "Offset down". However, each printer is unique. Some customers may need to adjust the offset value(s) to print checks.
For example: If you need to print the check higher, you can increase the value of
Offset Up
. If you need to print the check lower, you can increase the value of
Offset Down
.
These offset value are in inch. You can test it by changing offset value to 0.5 first. Print a test check. Then increase/decrease it to adjust printing position if needed.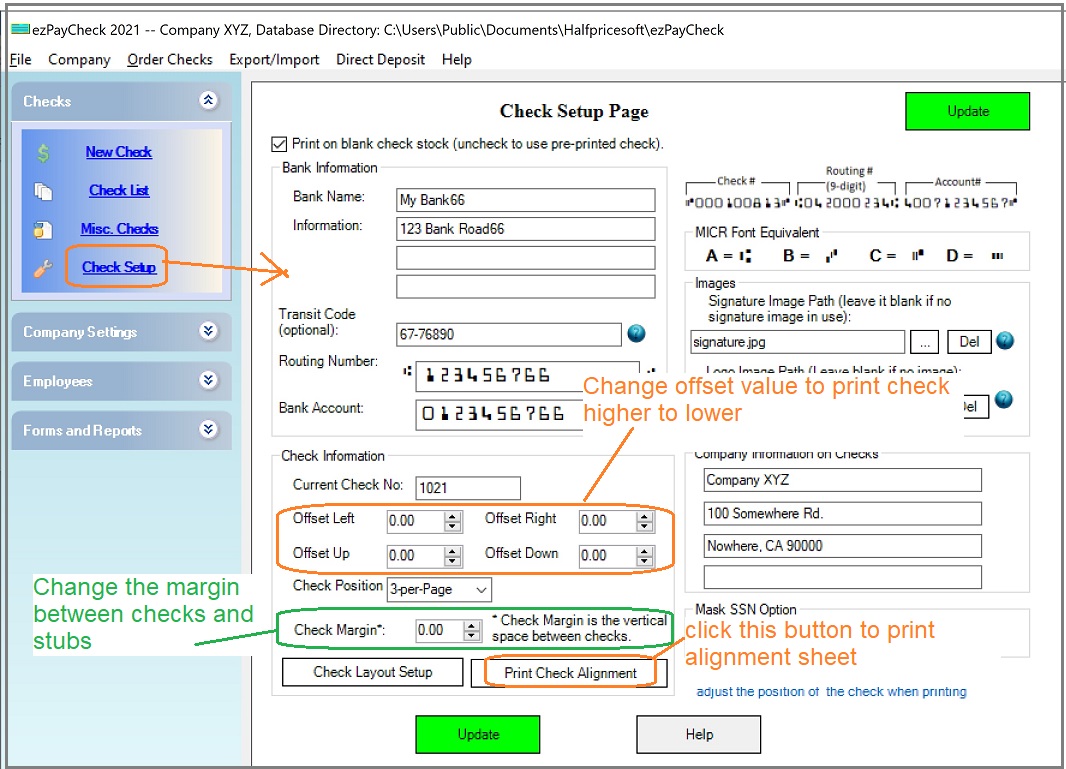 (Click image to enlarge)
---

ezPaycheck payroll software has been trusted by thousands of successful businesses for more than one decade. It helps you process payroll taxes, print paychecks and file tax forms easily and smoothly.

If you have not installed this software, you can download and try it free for 30 days with no obligation and no credit card needed. ezPaycheck is available for both Windows and Mac computers.

**LIMITED TIME SPECIAL OFFER** - ezPaycheck 2020 $30 Off!

No monthly fee. No hidden cost.


---
---
Related Links: