How to Calculate 2019 Federal Income Withhold Manually
ezPaycheck payroll software
speeds up and simplifies payroll tax calculation, paycheck printing and tax reporting for small businesses. However if you like to calculate the taxes manually, you can find the step by step guide below.
Example: Karen is married, with 1 allowance. Her salary rate is $39000. She receives one paycheck each month. .
1. Her gross income for each paycheck is $3250
39000/12=$3250
2. Her standard deduction for each paycheck is $337.5
Year 2019 Standard Deduction is $4,200.00
For each paycheck: 4200/12=$350.00
3. Her taxable income for each paycheck is:
3250-350=
$2900.00
4. Federal tax
Check Monthly tax table for married person
https://www.halfpricesoft.com/federal_income_tax_2019.asp
161.70 + 12% x (2900.00-2,600.00)=
$197.70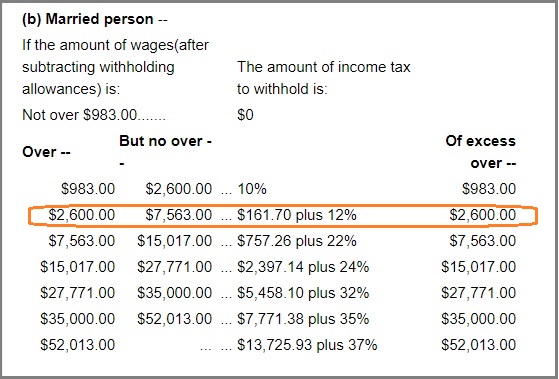 ---

ezPaycheck payroll software has been trusted by thousands of successful businesses for more than one decade. It helps you process payroll taxes, print paychecks and file tax forms easily and smoothly.

If you have not installed this software, you can download and try it free for 30 days with no obligation and no credit card needed. This paycheck software is compatible with Windows 10, 8.1, 8, 7, 2003 and Vista systems.

ezPaycheck 2018 & 2019 Bundle Special Offer $119 (Get 2019 version at $20 if you purchase ezPaycheck 2018 at regular price today)

No monthly fee. No hidden cost.


---
---
Related Links: