How to Calculate 2020 Federal Income Withhold Manually with New 2020 W4 form
(
If your employee filled out the old 2019 Form W4, follow this guide
)
ezPaycheck payroll software
speeds up and simplifies payroll tax calculation, paycheck printing and tax reporting for small businesses. However if you like to calculate the taxes manually, you can find the step by step guide below.
Follow the steps in this sample if employee submitted 2020 W4 Form
Example: Karen, married filling jointly, 2020 W4 form, semimonthly pay period, gross pay 1208.63 per paycheck.
The employee information set up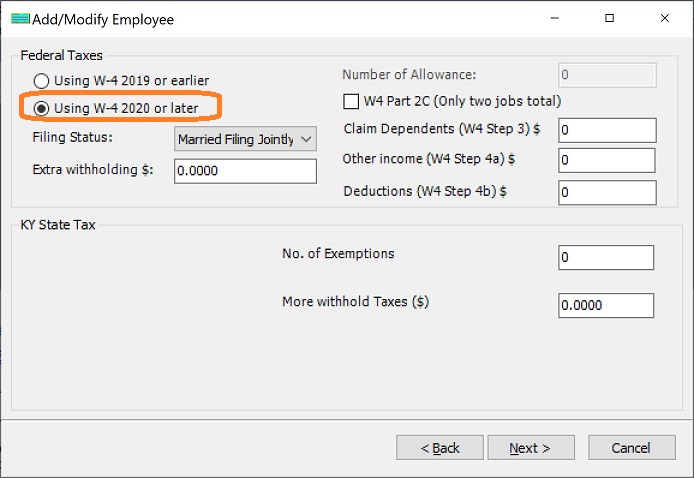 Steps to calculate the tax manually
1. Download and print
page 5 of Publication 15-T(2020)
https://www.irs.gov/pub/irs-pdf/p15t.pdf
(full version)
2. Fill in box 1a to 2a
3. Refer to the
2020 federal tax tables
for box 2b, 2c, and 2d.

4. Fill in box 2e to 4b
The federal tax is
$17.53.
If you generate the paycheck with
ezPaycheck payroll software
, you will see the same result there.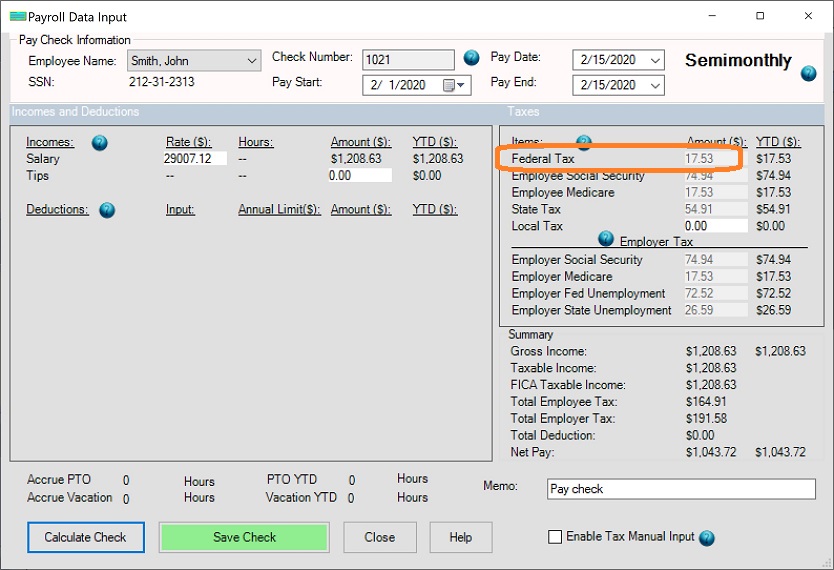 ---

ezPaycheck payroll software has been trusted by thousands of successful businesses for more than one decade. It helps you process payroll taxes, print paychecks and file tax forms easily and smoothly.

If you have not installed this software, you can download and try it free for 30 days with no obligation and no credit card needed. ezPaycheck is available for both Windows and Mac computers.

**LIMITED TIME SPECIAL OFFER** - ezPaycheck 2020 $30 Off!

No monthly fee. No hidden cost.


---
More Information

2020 Federal tax table

How to calculate federal tax automatically and withhold it from each paycheck

How to create after the fact paychecks and generate the paystubs

How to make federal income tax deposit

Why the federal income tax is not correct on paystub
---
Related Links: