W2C W3C Form Filing: How to Import W2 Data from eFile Document
ezW2Correction software
saves customers time by importing employee and w2 data from the efile document.
---
With ezW2Correction, you can paper print, PDF print and efile W-2C and W-3C forms for the previous 10 years. The white paper printing and data import features can save you valuable time and money.

Please feel free to test drive ezW2Correction demo version for free before purchasing with no registration needed and no obligation. You can follow the step by step online instructions to finish the installation in minutes

ezW2Correction software is compatible with Windows 11, 10, 8.1, 8, 7, 2003 Vista and other Windows computers.


---
Below are the steps:
Step 1: Review/edit/add a company(optional)
Review/Edit current company
Start ezW2Correction software, click the top menu "Current Company->Company" to review current company setup.
Add a new client account if you are a CPA
You can click the top menu "Company Management", then click the sub menu "Add Company".
Step 2: Remove test data(optional)
You can click the top menu "Current Company" then "Form W2C" to view current form list. If there is any test form there, you can remove it from this screen.
Step 3: Import W2 data from efile document
You can click the top menu "Current Company" then click sub menu "Import W2 efile" button. You can follow the structions to import data.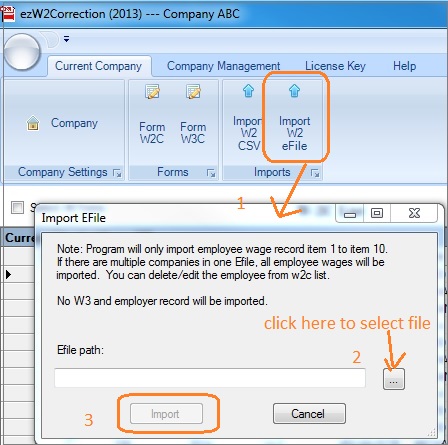 Import screen (click image to enlarge)
Step 4: Enter correction information to W2C Forms
Option 1: If you just have a few forms to correct, you can edit each W2C form manually.
4.1.1 You can click the top menu "Current Company->Form W-2c" to view w-2c form list.
4.1.2 Remove the form you do not need to correct from list
4.1.3 Edit the W2C form and add correct data.
Boxes 1 through 20. Do not make an entry in any of these boxes unless you are making a change. If you do not enter the correct amount for one field, ezW2Correction software will leave that field blank when printing form.
Option 2: If you have hundreds or thousands of forms to correct, it will be easier to export data to .csv file, edit and import.(for ezW2Correction Enterprise Version only).
4.2.1 Export W2 data to .csv file, edit it with Excel to add correction data.
4.2.2
Import both previous and correction data from .csv file to generate W2C form
.

Step 5: Review/edit W3C form
Step 6: Paper print or efile W2C & W3C
Related Links: