ACA Corrected Return: How to Print Form 1095-C and 1094-C
If you need to efile ACA corrected form return, please check this guide about how to efile 1095C and 1094C corrected forms.
ez1095 software
makes it easy to file form 1095 and 1094 for testing, production, replacement and correction. Here is the step by step guide to print corrected form 1095-C and 1094-C.
Preprinted 1095 and 1094 forms are not necessary!
---
When an employer need to file ACA Corrected Form
A corrected return should be filed as soon as possible after an error is discovered.
How to correcting 1095C and 1094C forms
You can find the details from IRS error message. Please follow IRS guide to fix error.
Step 1: Start ez1095 Software
If you have not installed ez1095 software, you need to download and install it first.
---
ez1095 software can prepare, print and e-file forms 1095-B, 1094-B, 1095-C and 1094-C ACA forms. You are welcome to download the trial version for free, with no registration needed and no obligation.

ez1095 2020 is available for 2021 tax season!

This ACA form 1095 printing software is compatible with Windows 10, 8.1, 8, 7, Vista and other Windows system, 32-bit or 64-bit.


---
After you installed the ez1095 software, you will see a new shortcut created on desktop. You can double click this shortcut to start ez1095 software.

If you are using the trial version of ez1095 software, you will see the key input pop up screen. You can enter the key code here or click the "TRY DEMO Version" to try this software for free. (Note: The trial version will print TRIAL image on forms.)
Step 2: Set up Company Information (optional)
You entered the wrong company information before, please correct it.
- Start ez1095 software, click the top menu "Current Company" then the sub menu "Company Settings" to view company set up screen.
- Enter company information
- Click the
SAVE
button to save the change.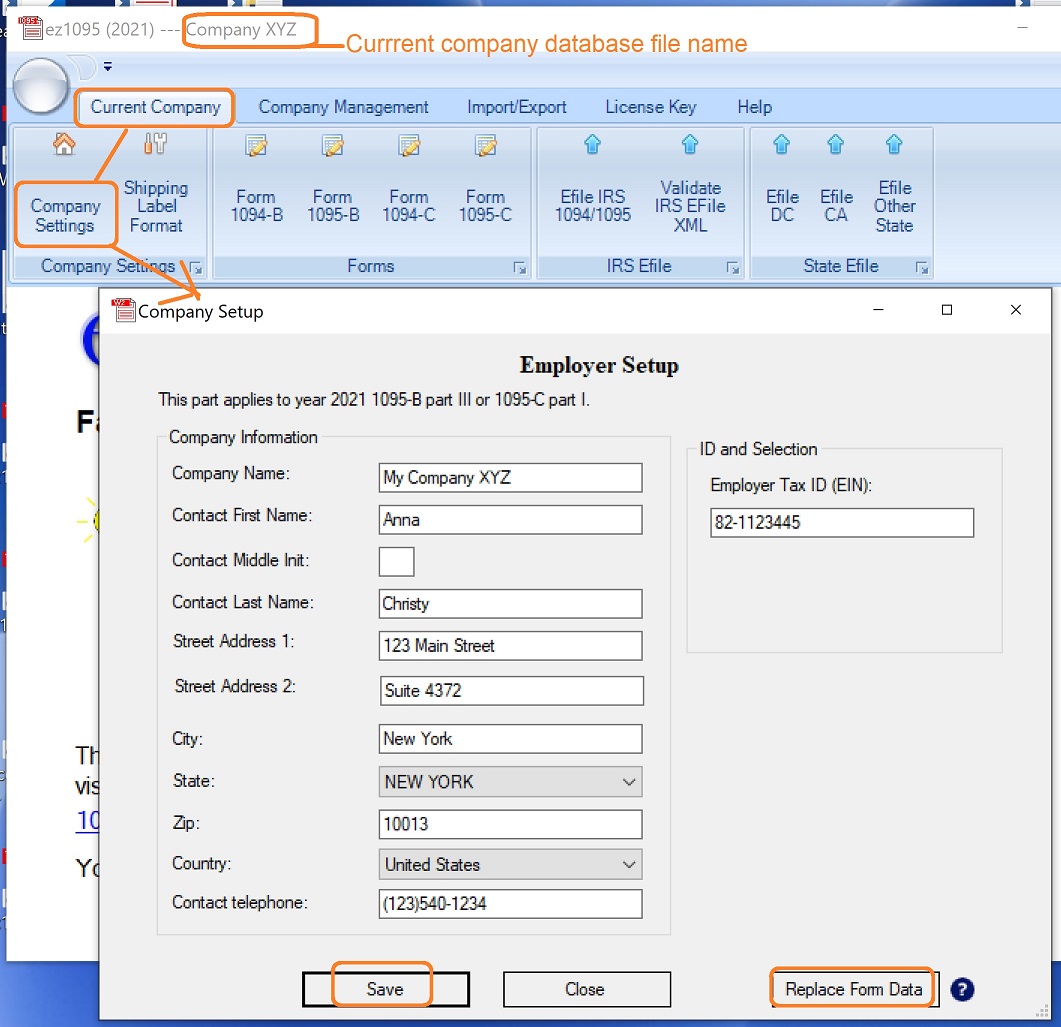 Step 3: Edit Tax Form 1095-C
- Click the top menu "Current Company" then the sub menu "Form 1095-C" to view 1095C screen.
- Select the wrong form from list adn click the "Edit ID XXXXX" to edit a form. Follow IRS guide and correct the error and save it.
IRS Form 1095C and 1094C Instructions
https://www.irs.gov/pub/irs-pdf/i109495c.pdf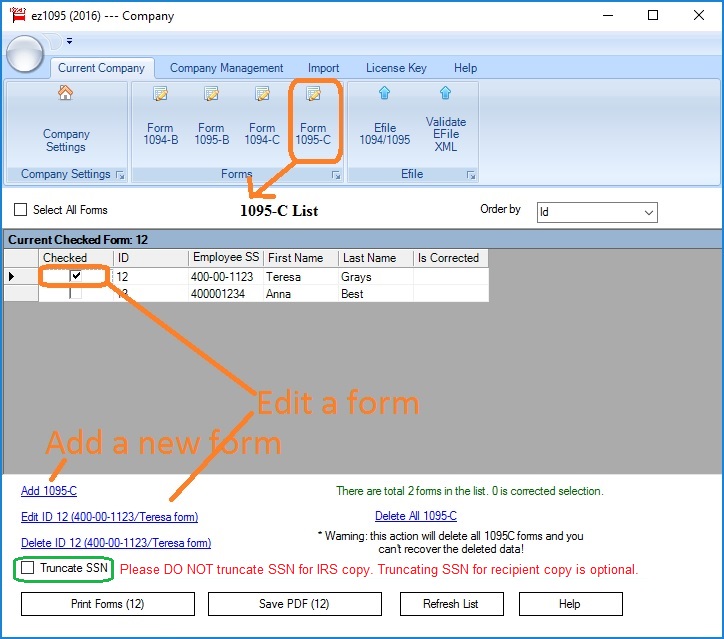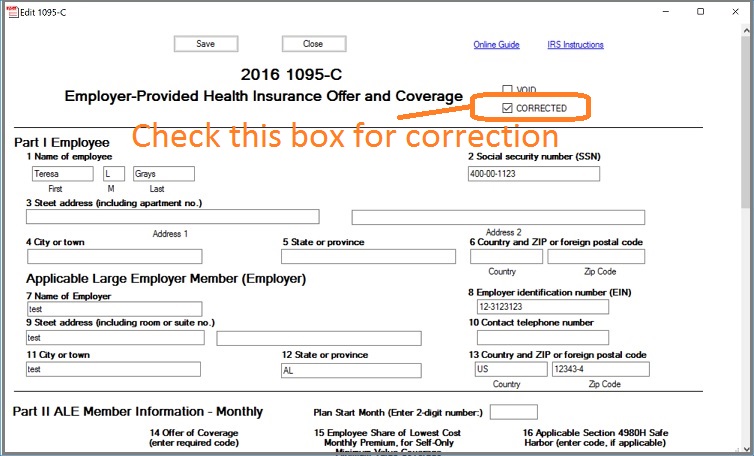 Step 4: Print Tax Form 1095-C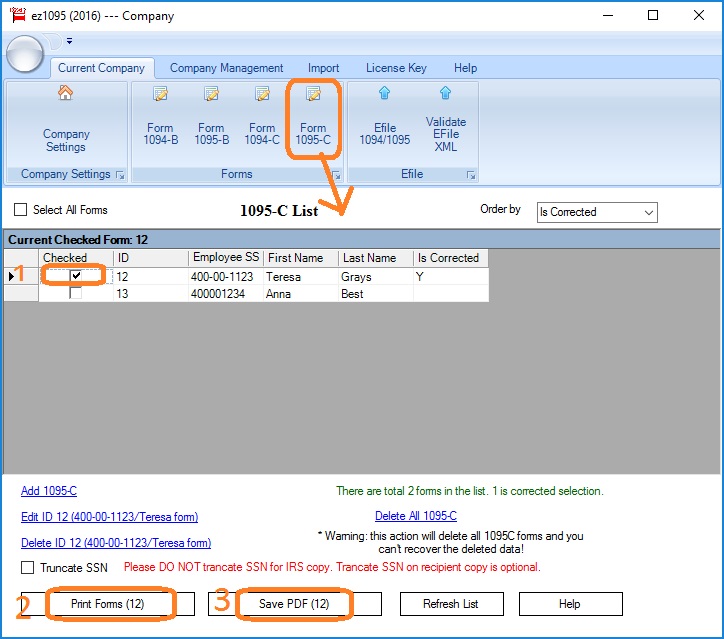 You can print optional shipping address to mail forms with #10 double windows envelopes easily.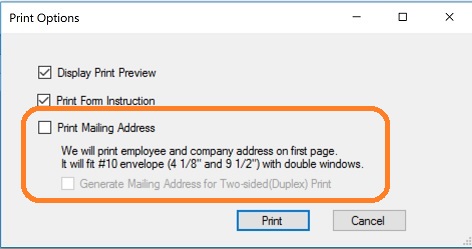 Step 5: Print Tax Form 1094-C
click the top menu "Current Company" then the sub menu "Form 1094-C" to view 1095-C screen.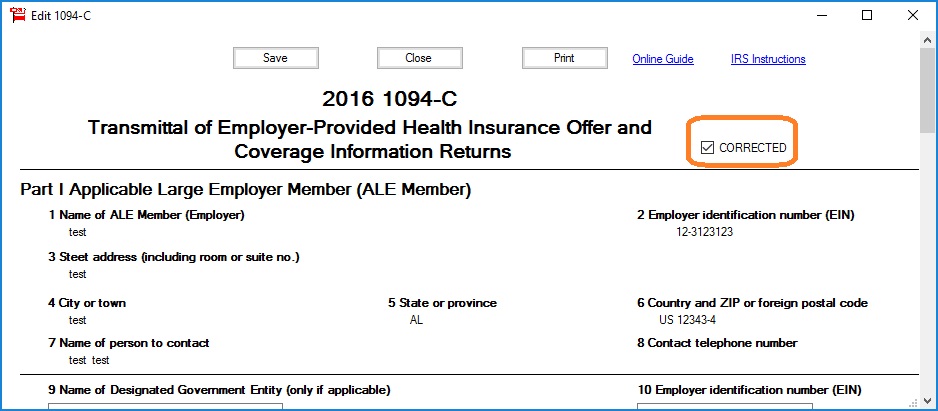 Note: ez1095 software can print both 1095-C and 1094 C forms for IRS and recipients on white paper. No pre-printed form is needed.
Sample 1095 C form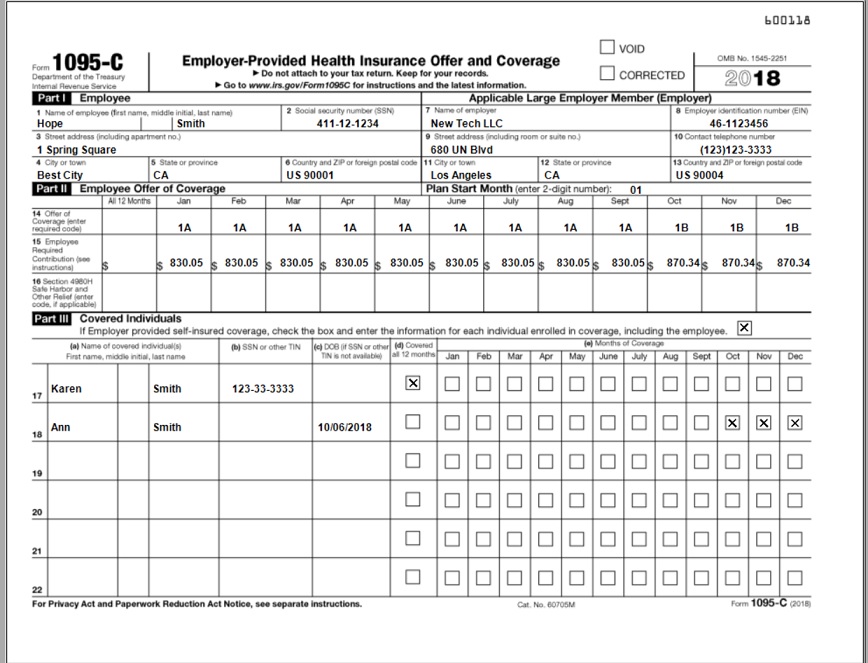 ---
---
Related Links
Other Forms