W2 & 1099 for Accountant: How to Transfer Data Manually
Note:
If you are a small business owner or HR manager, it will be easier to use the ezW2 Software backup and restore functions to transfer the data.


If you are a CPA with many accounts , it will be faster to transfer the data manually. Here are the steps on how to copy the data from ezW2 2016 folder to ezW2 2017 folder
.
Step 1. Open ezW2 2016 database folder and copy the .mdb files
The default database folder is:
C:\Users\Public\Documents\Halfpricesoft\ezW2(2016)
The database file is .mdb file (Microsoft Access Database file)
Tips: How to select multiple files
To select consecutive files, click the first item, press and hold down SHIFT, and then click the last item.
To select nonconsecutive files, press and hold down CTRL, and then click each item.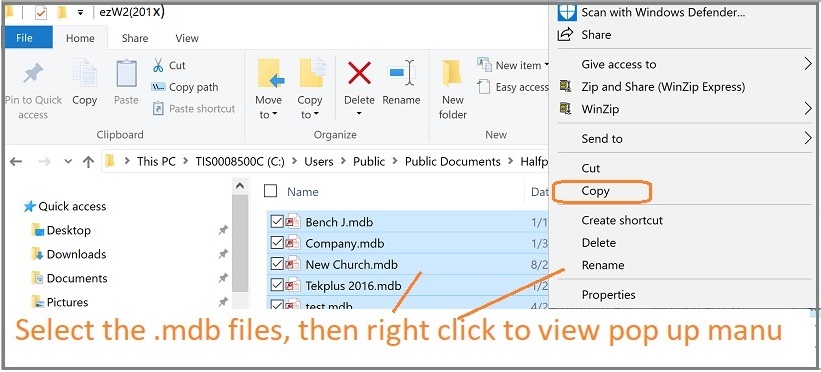 Step 2. Paste the .mdb files to EzW2 2017 folder
The default database folder for ezW2 2017 is:
C:\Users\Public\Documents\Halfpricesoft\ezW2(2017)
If you are using multiple-user network version, you may need to copy the data to your shared folder on local computer or netowrk location.
Do not open the .mdb file manually or with other application (ie: MS Access). Please follow Step 3 and 4 to view the data with ezW2 software.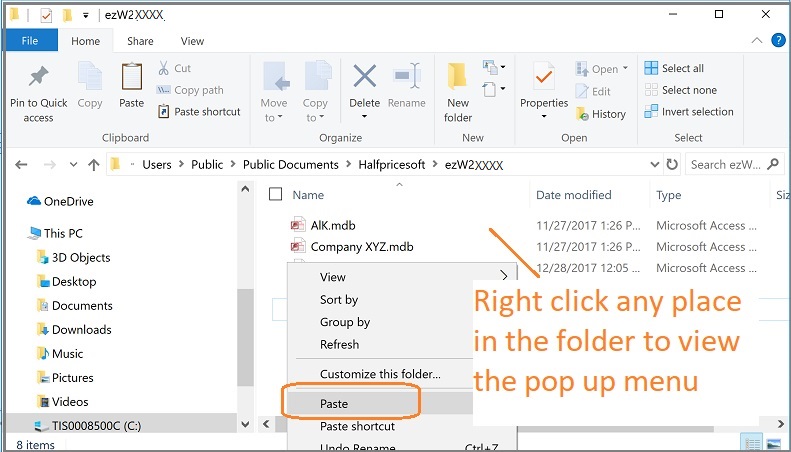 Step 3: Switch current database
Start ezW2 2017, select one new database file as your current database file by clicking the top menu "Company Management->Select Company".
Step 4. You can edit your data there and print your new forms.
---
ezW2 software can prepare, print and efile forms W2, W3, 1096-misc and 1099.

ezW2 2017 Is Available for the 2018 Tax Season!

Please feel free to test drive with no cost and no obligation before purchasing it. This W2 1099 software is compatible with Windows 10, 8.1, 8, 7, Vista and other Windows computers.


---
---
Related Links
How to print Form W3
1099-misc, 1096
How to print Form 1096
W2C, W3c
- Learn more about W2C and W3C


More Forms
- Learn more about 1099s Software (1099A, 1099B, 1099C, 1099CAP, 1099DIV, 1099G, 1099H, 1099INT, 1099LTC, 1099MISC, 1099OID, 1099PATR, 1099Q, 1099R, 1099S, 1099SA)

- Learn more about 1098s software (1098, 1098C, 1098E, 1098 T) software

- Learn more about 5498s(5498, 5498ESA, 5498SA) software

- Learn more about W2G, 1097BTC, 8935, 3921, 3922 software