W2 & 1099-misc Form Printing: How to Roll Forward Previous Data
ezW2 2012 and later version comes with new BACKUP and RESTORE function. User can copy previous year's data to latest application easily. Here is the step by step guide on how to copy Year 2016 to 2017 folder.
(If you are a CPA or you have many accounts, please refer to this article to transfer data manually http://www.halfpricesoft.com/w2-software/howto-transfer-w2-1099-data-cpa.asp)
Note: Do not forget step 4 to switch your current database file after you transfer data!
Here are the steps:
Option 1: For Small Business Employer
Step 1. Start ezW2 2016 and back up data
Start ezW2 2016, click the top menu "Company Management-> Backup current company". You can rename and save the database file to a folder or a flash disk that you can access easily. For example: you can rename the datbase file to "ABC Company 2017".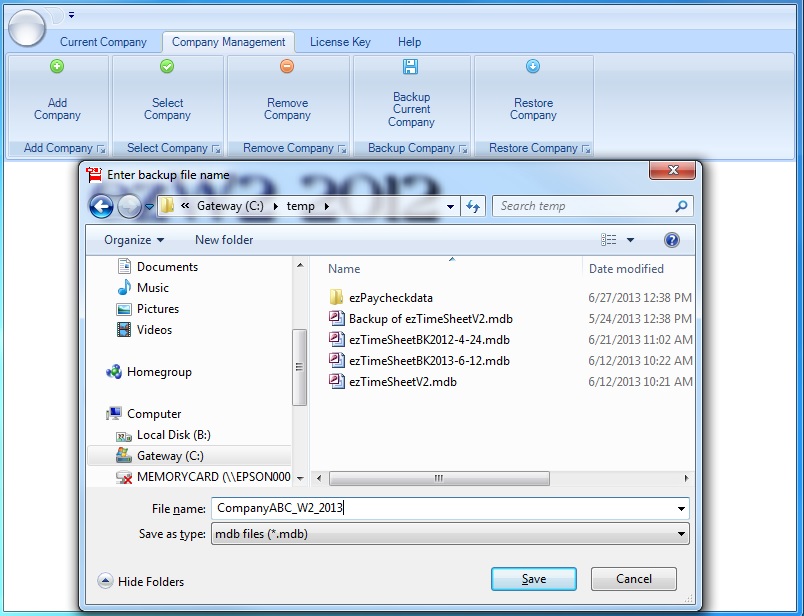 click the image to enlarge
Step 2. Install ezW2 2017 and restore data
2.1 ezW2 free download link
http://www.halfpricesoft.com/w2-software-free-download.asp
2.2 Start ezW2 2017, click the top menu "Company Management-> Restore company". Then select the "Restore Company" to copy the data to current data folder.
Step 4: Switch current database
Start ezW2 2017, select this new database file as your current database file by clicking the top menu "Company Management->Select Company".
Step 5. You can edit your data there and print your new forms.
---
Option 2: For CPA
If you have multiple companies accounts, you can refer to this article to
transfer data manually
---
ezW2 software can prepare, print and efile forms W2, W3, 1096-misc and 1099.

If you do not have ezW2 software installed, you can download and test the software for compatibility before purchasing. No registration needed and no obligation to test and input data to the software. You can download and purchase at halfpricesoft.com

This W2 1099 software is compatible with Windows 10 system, 32-bit or 64-bit. It can run on Windows 8.1, 8, 7, XP, Me, 2003 and Vista system too.

Do not forget to mail out W2 and 1099 forms before deadline!

---
---
Related Links