How to Generate XML Files and eFile 1095/1094 Forms to IRS
(Click here to view
state ACA form efiling guide
)
ez1095 software can generate the XML documents you can upload to IRS site. The efile XML documents include 1095 forms and 1094 form.
If you are a first time efiler, please follow this guide from step 1
.
Step 1: Apply TCC from IRS
If you are a first ACA form efiler, you must apply TCC(Transmitter Control Code) from IRS. This TCC for 1095 ACA Form filing is
different
from the TCC for 1099 filing.
How to apply TCC?
Step 2: Install ez1095 software
If you have not installed ez1095, you can download it and test drive for free before purchasing with no obligation.
---



From $195

Securely File 1095 & 1094 ACA Forms In-House

With ez1095 software, you can prepare, print, PDF print and e-file forms unlimited 1095-B, 1094-B, 1095-C and 1094-C ACA forms easily.

For 2016 to 2023 tax seasons. For both federal and states.

Try free DEMO version with no obligation today!

ez1095 is compatible with Windows 11, 10, 8.1, 8, 7, and other Windows system, 32-bit or 64-bit.


---
Step 3: First time efiler: test communication with AIR system by passing one of the eight test scenarios
Note: If you passed ACA testing before and your TCC is still with PRODUCTION status, you can skip this step. Learn more
here
3.1: Pass one of the eight test scenarios to match your company case.
You CANNOT submit your company information for testing!!!
. We have prepared all data for you to pass this step. You just need to follow our guide and enter your own TCC.
-
How to pass the test scenarios.
3.2: Once you passed testing, IRS will change your IRS TCC account status to production.
-
How can I know if my TCC has been moved into P (Production) status
Step 4: Prepare the ACA forms
4.1: Enter company information
4.2: Enter or import 1095 form information
4.3: Enter form 1094 information
4.4: Print 1095 forms for recipients
Note
: The XML efile documents include both 1095 and 1094 information. The company information will be filled in automatically on form 1094 based on company setup. You need to enter other information on Form 1094 manually(ie: total number of 1095 forms).
Related links:
-
How to prepare and print Form 1095-C and 1094-C
-
How to prepare and print Form 1095-B and 1094-B
-
How to Import Data
-
IRS Form 1094/1095C Instructions
-
IRS Form 1094/1095B Instructions
Step 5: Generate XML documents
5.1 Click ez1095 top menu "Efile 1094/1095" to view efile screen

5.2 Input your TCC and correct EIN to generate efile. DO NOT check "Is Test" check box for your production file.
- Click the "Save Data" form to save your efiling settings.
- Click the "Create File" button to generate the XML files: "Manifest_soapheader_xxxxxx.xml" (the manifest file) and "1094X_Request_YourTCC_xxxxx.xml"(the data file).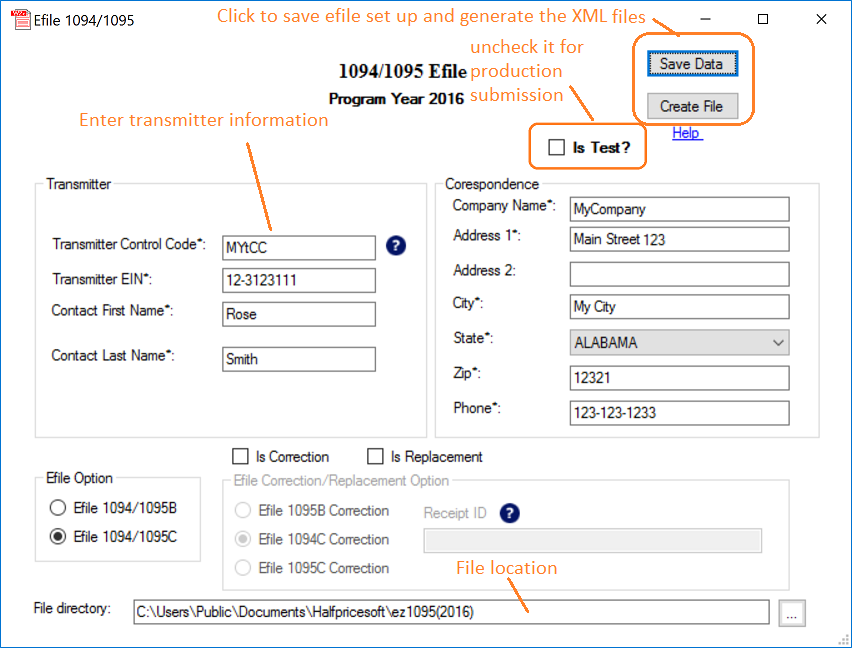 Your default efile location will be in "C:\Users\Public\Documents\Halfpricesoft\ez1095(201X)" directory. You can change this path.
ie: for Year 2015, the default path is ez1095(2015).
Step 6: Validate XML documents and upload to IRS
---
---
6.2
Upload the XML files to IRS ACA UI Production System
.
There are two file to be uploaded.
"Manifest_soapheader_xxxxxx.xml"
This is the manifest file.


"1094X_Request_YourTCC_xxxxx.xml".
This is the data file.

PLEASE DO NOT MODIFY FILES. Please record the Receipt ID after uploading.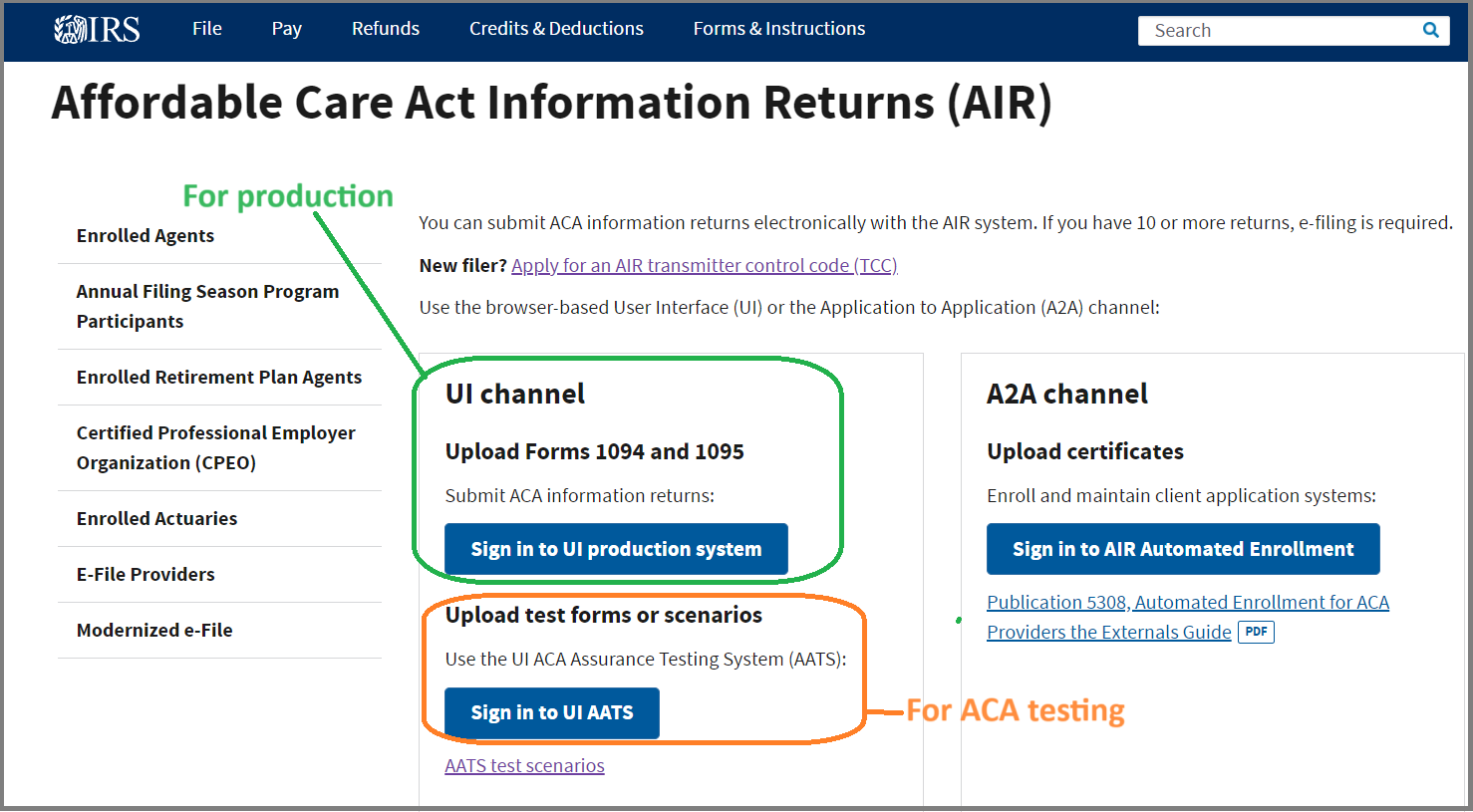 ---
EFile Replacement or Correction Forms
If you need to efile correction or replacement forms, you can learn more below.


Troubelshooting
Common ACA XML file Errors and Solutions
Common IRS ACA Efile Errors and Solutions
---
Related Links
12. Troubleshooting
Other Forms